Yesterday was warm-ish (around 50 degrees) so I went outside to take some photos. I have been waiting for the weather to get warm so I can wear my dresses.
Scarf: a gift
Jacket: H&M
Sweater: BCBG MAXAZRIA
Cardigan: Merona
Dress: H&M
Tights: Unknown
Shoes: Alex Marie
All of these items I've actually bought at Unique Thrift Store over time.
I'm pretty awesome at finding good stuff at the thrift store.
Most of my closet is now thrift store buys. :)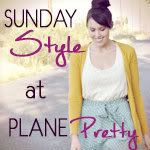 Linked up with Plane Pretty! Check out her style as well!